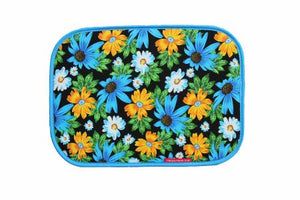 Ironing Mat Blue Floral 10 x 14 inch
TheQuiltMate was designed to be used virtually anywhere! No more bulky ironing board to setup or move around. No more slippery ironing pad that never stays in one place as you iron. No longer the inconvenience of not having the right ironing surface available wherever you are. TheQuiltMate ironing pad was made to be easy-to-use and portable, with a firm surface that stays put while you iron.  
The .7mm 100% silicone backing gives a unique, firm, non-slip ironing experience.